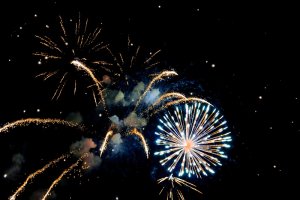 Stay at Tropic Towers for New Year's Eve 2019 in Cairns
If you're thinking about celebrating New Year's Eve 2019 in an exciting new location, look no further than Cairns in Tropical North Queensland. Cairns offers an incredible New Year's Eve atmosphere with plenty to do during the day before the famous Cairns Esplanade fireworks, and our Cairns City accommodation at Tropic Towers offers a prime location to soak it all in.

With Tropic Towers, enjoy an affordable stay in Cairns that will place you within a short stroll from Cairns Esplanade. Our choice of one and two-bedroom apartments are ideal if you're looking to spend New Year's Eve in Cairns, offering all the comforts of home with guest access to our resort-style onsite facilities. For a New Year's Eve celebration like no other, set your sights on Cairns today.
New Year's Eve 2019 on Cairns Esplanade
Cairns Esplanade is the heart of every New Year's Eve celebration in Cairns with plenty to see, do and enjoy along its stunning 2.5 kilometre stretch. On the oceanfront, market stalls, food vendors, street entertainers and family attractions appear from early in the day, offering something for all and a fantastic atmosphere that only gets better as the midnight countdown draws near.

On New Year's Eve, it's possible to spend a full day on the Esplanade with everything it has to offer. Tuck into a variety of food options at the stalls and inside the cafés, enjoy a chilled beverage on the waterfront and treat the kids to carnival rides, attractions and a memorable swim in Cairns Lagoon. When the sun begins to set, claim your spot at the water's edge for the best view of the free Cairns New Year's Eve fireworks.

In addition to the spectacular midnight display on the ocean, an early 9 pm fireworks show lights up Cairns Esplanade each year for families and early sleepers. Ideal vantage points include Cairns Esplanade Lagoon, Muddy's Playground, Mckenzie Street Parkland and Charles Street Parkland, where picnic blankets and chairs can be set up on the grass before the first fireworks display takes place.
Relax Nearby with Our Cairns Accommodation Apartments
On New Year's Eve 2019, make sure you're near Cairns Esplanade with our affordable Cairns accommodation apartments at Tropic Towers. Situated on Sheridan Street, our location offers Cairns Esplanade within a few minutes' walk, close to both Fun Ship Parkland and Mckenzie Street Parkland where the Cairns New Year's Eve fireworks can be watched in full.

For travellers, couples and families, our fully self-contained one and two bedroom apartments offer comfort in Cairns for an affordable price, each featuring a full kitchen and laundry facilities, cable TV in a spacious living and dining area, a large Queen-sized bed and a private balcony with relaxing hinterland views.

Our one-bedroom holiday apartments are ideal for travellers and couples of up to 3 guests, whereas our two-bedroom Cairns City apartments can accommodate families and small groups of up to 5 guests with two extra single beds. Here at Tropic Towers Apartments, we also offer two-bedroom apartments that are easily accessible and suitably equipped with disabled facilities.
What Our Location Offers
As well as a prime spot for enjoying the New Year's Eve on Cairns Esplanade, our location puts all the best Cairns attractions, restaurants and shopping centres just a stone's throw away. A 5-minute drive from Cairns Central, your stay at Tropic Towers will provide the perfect opportunity to explore everything Cairns has to offer, including its northern beaches and daily tours to the Great Barrier Reef.

On New Year's Eve, dine in style in Cairns at The Pier Shopping Centre, situated on the waterfront near Cairns Lagoon with a fantastic choice of award-winning restaurants next to the marina boats. Alternatively, arrive a few days earlier to soak up the best attractions and tourist experiences in Cairns, such as Cairns ZOOM and Wildlife Dome, Cairns Aquarium, Skyrail and the Great Barrier Reef, with trips to Green Island, Fitzroy Island and more available daily from Cairns.
Enjoy These Guest Facilities at Tropic Towers
During your New Year's Eve stay in Cairns, take full advantage of our resort-style guest facilities at Tropic Towers Holiday Apartments. Designed to relax and entertain, you'll have everything you need to enjoy your free time before or after a busy day spent in Cairns.

Cool off and bond with the kids in our outdoor swimming pool, surrounded by lush tropical gardens and complete with sun loungers for kicking back and soaking up the sun. Our pool also features a heated spa for immediate relaxation, as well as barbecue amenities and undercover tables for poolside dining.

Free WiFi is available for all guests, as well as free off-street car parking if you're coming to Cairns via car. For your convenience, we also have on onsite tour desk, where you can avail hassle-free bookings to the best local events, Cairns attractions and Great Barrier Reef tours.
Book Directly with Us Today and Save!
Book with us today and save with our affordable rates, available on all direct bookings made on our Cairns holiday apartments. By booking in advance, you can also make sure not to miss out on our prime location that will put you just a short stroll from all the upcoming New Year's Eve festivity on Cairns Esplanade - the ultimate destination to welcome the New Year in Queensland.

For New Year's Eve 2019, simply choose from our affordable one and two bedroom apartments - bright, spacious and fully self-contained with all the comforts of home. Enjoy the best of Cairns within a few minutes' drive - such as its attractions, restaurants and beaches - then wind down with exclusive guest access to our facilities that include an onsite swimming pool and spa, barbecue area and free WiFi access.

Find more information today and start planning an unforgettable New Year's Eve in Cairns Tropical North Queensland - visit Tropic Towers Cairns.