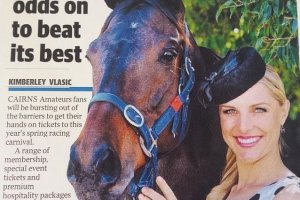 Feel the excitement as Cairns light up with entertainment, glitz, and fashion in this year's Cairns Amateurs Racing Carnival.
The first carnival was held in 1959. Back then, the Committee which consisted of 10 people from outback station properties as well as local businessmen was only able to conduct six races daily. A few local businesses and regional branches of national companies participated and volunteered while some were approached by the Committee for support on the said carnival.
As years passed by, the Cairns Amateurs Racing Carnival grew and became Australia's most prestigious horse racing event. To attract more people, the horse racing enthusiasts merged with high fashion making Cairns Amateurs Racing Carnival an event both ladies and gentlemen would enjoy.
At present, the Cairns Amateurs is listed in the National Calendar making it a must-attend event in September and drawing approximately 20,000 people from all over the country. This year, multi award winning carnival promises to bring the same fabulous events only bigger and better.
Don't miss the Cairns Amateurs Racing Carnival 2015 happening on Friday 11th of September to Saturday 12th of September at the Cannon Park Race Course, Cairns.
Admission fee for adults is $30.00 but a pre purchased gate entry online only costs $25.00. For aged pensioners and children aged 5-17, the admission fee is $15.00 while kids aged 0-5 are free.
So plan your trip to Tropical North Queensland today and stay a night or two in Cairns holiday apartments near the venue. Tropic Towers offers a Cairns accommodation with a choice of one bedroom apartment perfect for a maximum of three people, two bedroom apartments suitable for a group of five, and two bedroom apartments with disabled facilities. Guests are welcome to use great facilities such as resort-style swimming pool and spa as well as barbecue facilities by the pool.
Moreover, our Cairns holiday accommodation is 2km north of the heart of Cairns, 5km from the airport, and just 2km north of the main CBD. Not only that, but there is also a bus stop conveniently located 30 metres from the main entrance. Taxis and tour operators provide door-to-door service. Wherever you plan to go won't be a problem at all.
Book now so you won't miss the Cairns Amateurs Racing Carnival 2015. http://tropictowers.etourism.net.au/
Image Source : Cairns Amateurs