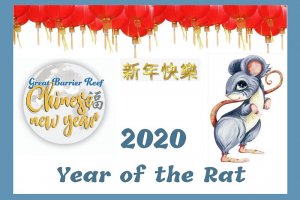 Book a Cairns Holiday During Chinese New Year Festival!
If you're looking to experience Cairns like no other time in the year, book your Cairns holiday during Great Barrier Reef Chinese New Year Festival 2020 - a 15-day celebration that takes over Cairns City with non-stop cultural festivity in the streets, unique market stalls and a vibrant atmosphere that won't disappoint this summer.

Surrounding our prime location in Cairns - just a short walk from Cairns Esplanade - Great Barrier Reef Chinese New Year Festival will offer plenty to see and do for two whole weeks beginning January 25, all of which can be yours to enjoy as you relax in our affordable Cairns City apartments.

Here at Tropic Towers, find your perfect stay in Cairns by just choosing from our one and two-bedroom apartment rentals, ideal for travellers, couples and families both with and without a budget!

All our Cairns holiday apartments are fully self-contained, each providing modern amenities, spacious rooms and exclusive access to our onsite facilities and services. Whether you're excited to soak up the full two-week-long Chinese New Year Festival in Cairns or just escape for a memorable weekend this summer, look no further than Tropic Towers Apartments Cairns.
Great Barrier Reef Chinese New Year Festival 2020
Marking a fresh start to the Chinese zodiac with the 2020 Year of the Rat, Great Barrier Reef Chinese New Year Festival 2020 is all set to be the most exciting Chinese New Year celebration in Cairns so far.

From January 25 to February 7, expect Cairns City to come alive with all things related to the Chinese New Year, from dance performances and street entertainers to cultural feasts and traditional Chinese displays of all the widely celebrated Chinese zodiac animals.

Locations such as Cairns Esplanade, Cairns Lagoon, Grafton Street and more will get taken over by spectacular Chinese New Year festivity, including street processions and live music for all ages and backgrounds, along with market stalls and food vendors where you'll get to enjoy an authentic piece of China in the heart of the Cairns CBD.

Highlights to expect are zodiac lion and dragon displays, in addition to the annual Cairns Airport Year of the Rat Street Festival on Grafton Street near Munro Martin Parklands. Browse an eclectic range of souvenirs and items and taste mouth-watering Chinese specialities from the best regional businesses and food vendors.

Established by CADCAI Cairns and District Chinese Association Inc and showcasing Cairns' rich Chinese history and culture, the annual Cairns Chinese New Year Festival is an unmissable experience for all, backed by Cairns Regional Council and offering a nonstop 15-day celebration that's one of the biggest in the country.

For the chance to continue the New Year festivity, as well as join in the Chinese New Year celebrated all around the world, make sure to be in Cairns this summer!
Choose Affordable Cairns Apartments with Tropic Towers
This January and February, don't miss the incredible upcoming program for 2020 Great Barrier Chinese New Year Festival with our ideally situated Cairns accommodation apartments at Tropic Towers.

Situated near Cairns Esplanade and just a short drive from the heart of the Cairns CBD - home to Cairns Central Shopping Centre, Cairns ZOOM and Wildlife Dome, Cairns Aquarium and more - our choice of affordable Cairns City apartment accommodation offers a comfortable stay near the best that Cairns has to offer, including the best local tours to the Great Barrier Reef.

For travellers, couples and small families, our one and two-bedroom rentals are ideal: modern, spacious and fully self-contained with everything needed for a memorable Cairns holiday. Each features a spacious living area with cable TV, free WiFi and relaxing views from a large private balcony, plus full kitchen and laundry facilities for maximum convenience.

Our one-bedroom Cairns apartments feature one Queen bed for up to 3 guests, with two additional single beds provided in our two bedroom apartments, suitable for up to 5 guests. We also offer disabled-friendly two-bedroom apartments - all of which offer free guest access to our onsite facilities that include a resort-style outdoor swimming pool, spa, barbecue area and tour desk.
Our Prime Location in Cairns City
Alongside 2020 Chinese New Year Festival Cairns, make sure to fill your stay with all the best things there are to see and do in Cairns Far North Queensland. Our prime location in Cairns City will put the region and all its tropical beauty at the tip of your fingers, from shopping in the best Cairns shopping centres to unforgettable day trips to the Great Barrier Reef.

Find Cairns Central Shopping Centre and The Pier Cairns within a few minutes' drive from our location on Sheridan Street, both renowned for their choice of fashion brands, pampering spas and luxury restaurants. Explore Cairns Esplanade within a short walk and always be a short drive from the famous beach destinations Cairns has to offer, including Trinity Beach and Palm Cove.

No Cairns holiday is complete without seeing the Great Barrier Reef, where a wide choice of locals are available to find in the Cairns CBD. After experiencing it for yourself, enjoy another once-in-a-lifetime tour on your holiday by jumping aboard the Skyrail Rainforest Cableway.
Save Now - Book Directly in Advance
The Great Barrier Reef Chinese New Year Festival is just around the corner, so book with us today for your ideal stay in the heart of the festivity. To save on your Cairns holiday, just book directly with us in advance, guaranteeing you the best available rates on all our holiday accommodation Cairns apartments at Tropic Towers.

Chinese New Year Festival 2020 is the ideal excuse to visit Cairns this summer, set to take over for 15 consecutive days of street entertainment, food and cultural displays from January 25 to February 7. View our one and two-bedroom apartments now and book directly by visiting Tropic Towers Cairns.