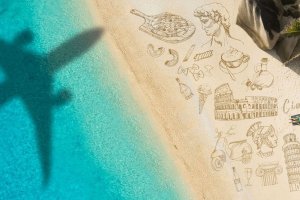 Discover Italy while it's tropical! Don't miss the first-ever Cairns Italian Festival, which will take place from July 28 to August 6 during QLD's Multicultural Month in renowned locations throughout North Queensland, including Cairns, Atherton, Dimbulah, Edmonton, Gordonvale, Innisfail, Mareeba, Mossman, Mutchilba, Port Douglas, Silkwood, Tully, and Yungaburra. The biggest festival, "La Festa," will be in Fogarty Park.
The ten days of the Cairns Italian Festival will be filled with an exciting lineup of events and entertainment from all over Australia as it celebrates Italian history, culture, food, wine, song, and dance.
Event Lineup
Join celebrating Italy in the Tropics with a variety of events throughout the week, such as:
Ancient Rome Exhibition
June 8 to August 7
Australian Armour and Artillery Museum Cairns
From Julius Caesar's resounding victory over the Gauls in 52 BC through Rome's transformation from a Republic into the mighty Roman Empire, this fantastic exhibition vividly depicts one of the most technologically significant periods in human history.
The Australian Armour and Artillery Museum Cairns will host the 8-week Ancient Rome Exhibition, which will run from June 8 through August 7.
One of the exhibit's highlights is a six-meter chronology that spans more than 1000 years, from the Republic to the Empire. Additionally, you will learn modern military communications, logistics, and strategy. Get up close to the swords, shields, and armour worn by gladiators while also learning about the Colosseum's mysteries.
La Festa - Food & Wine
July 30
Fogarty Park
Mark July 30 on your calendars and visit Fogarty Park for a fantastic day of family entertainment honouring all Italian culture, including delectable Italian cuisine from several Italian areas, wine, coffee, and top-notch performance.
The Italian extravaganza "La Festa" celebrates delicious produce with a fabulous array of food and drink stalls. There will also be celebrity chef cooking demonstrations if you want to learn how to cook like a pro.
Of course, "La Festa" also showcases live band performances by Siesta Cartel, Made in Italy Show, MC James Liotta, Pizza Acrobatics, Daniela & Stefania from My Kitchen Rules, Italian music and dancing, a fashion parade, and kids' activities. And catch the impressive fireworks show which will round off the day.
Italian Movie Night
August 3
Event Cinemas Earlville
Of course, you must also see a classic Italian film. Visit Event Cinemas Earlville to see "A girl in Australia" or "Bello, Onesto, Emigrato Australia Sposerebbe Compaesana Illibata." Alberto Sordi and Claudia Cardinale star in this Italian comedy film from 1971, which Luigi Zampa directed.
This charming film, which Rodolfo Sonego wrote based on a visit to his sister who lived in a small Victorian town but had immigrated to Australia from the southern Italian village of Bulleno, transports you back in time. He decided to pen a script detailing the life of the Italian immigrant in Australia. Alberto Sordi plays Amedeo, a poor Italian immigrant who has lived in Australia for 20 years. The early 1970s saw the film's production in Cairns and other tourist hotspots.
The Cairns Italian Festival 2022 will feature all of these programs and more. Stay at Tropic Towers for convenient access to the venues.
Book Your Cairns Accommodation
Tropic Towers, which is adjacent to the city's centre, features a welcoming onsite staff and convenient access to local transportation. You can be sure to get a good night's sleep in any of their roomy and cozy one- or two-bedroom Cairns Holiday Apartments. You can also relax by the pool in the resort's lovely tropical environment or rejuvenate in the onsite spa after an exciting day at the festival.
Book your Tropic Towers Cairns Holiday Accommodation!