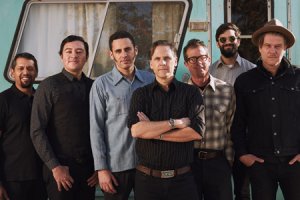 Catch Calexico at Tanks Arts Centre on Saturday 19 January at Tanks Arts Centre.
If you're traveling to Cairns this January, don't miss Calexico live in concert. Calexico finally makes their way to Cairns. Don't miss this opportunity to experience the panoramic musical and lyrical genius of Calexico (USA).
Fresh from their last critically acclaimed studio album, The Thread That Keeps Us, Calexico brings their unbridled spirit and energy. Just like their other albums, the latest features t he unique sound that has become their trademark.
Calexico has toured the world bringing their music to the masses. With nine studio albums under their belt, numerous collaborations, music scores and soundtracks, Calexico has steadily built a name for themselves. Their signature "dessert noir" sound sets them apart from all the other bands.
Their panoramic frontier music crosses borders, cultures and genres. Their music brings people together and bridges the gap of musical possibilities. Infusing the instrumentation, sounds and structures of cumbia, fado, jazz, gypsy, surf, country, spaghetti western epics, indie rock and several other musical influences, Calexico effortlessly blends genres and carves a sound that is their own. The songs sound exciting on the record but even more so live. Don't miss the chance to see Calexico perform live at Tanks Arts Centre on 19 January.
Our Cairns Accommodation is close to Tanks Arts Centre.
Choose from a selection of apartments that are perfect for holidaymakers. have our one bedroom apartment, two bedroom apartment and two bedroom apartment with disabled facilities. Our room amenities include air-conditioning, ceiling fans, a fully equipped kitchen, laundry facilities, broadband internet and WiFi access, bed linen and towels, free cable TV, flat screen TV and others. Stay connected using the WiFi. Prepare warm and delicious meals in the kitchen. Our two bedroom apartment is especially equipped for disabled people.
Our guest facilities include a swimming pool and spa, barbecue facilities, car parking, on site management, tour desk and WiFi.
For booking information, please visit https://tropictowers.etourism.net.au