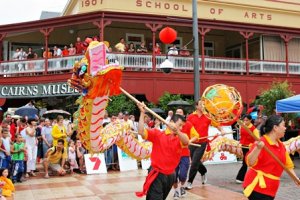 Want to experience a different kind of Chinese New Year? Head to Cairns this February and take part of the festivities.

Chinese New Year is also an important cultural holiday in Cairns. In fact, the Cairns Chinese community which is supported by Cairns Regional Council prepared various activities for everyone to enjoy. So get ready to be fascinated by the cultural performances especially the parade featuring the traditional Chinese dragon and lions as well as the 12 Chinese zodiac animals.

Besides these, below are two activities you should not miss!

Chinatown Heritage Tour
If you want to learn more about Cairns' rich Chinese Heritage, now is your chance. Join the Cairns & District Chinese Association and Cairns Libraries for a Chinatown Heritage Tour at the Cairns City Library.

Take this wonderful opportunity to see the Cairns Lit Sung Goong Temple artifacts, learn and see up close other contemporary and traditional Chinese arts collection. Chinese Heritage Tours are available on February 4, 5, 10 and 11. Each tour is approximately 45 minutes to 1 hour. Tour tickets costs $8 per person. Take note that this will be paid on the day to the Cairns & District Chinese Association but bookings are essential. Call the City Library on 4044 3720 now.

2016 Chinese New Year Street Festival
Welcome the Year of the Monkey by taking part of this year's Cairns Airport Chinese New Year Street Festival. Be at the Grafton Street between Shields and Spence Streets on February 13.

Did you know that in circa 1880 to 1910, Grafton Street formerly known as Sachs St was the heart of the original Cairns Chinatown precinct? Indeed, Cairns has a rich Chinese Heritage. And in this very place, you will again see it light up with traditional Chinese music and cultural performances as well as food and market stalls.

Also, stay tuned for the Chinese New Year parade and the spectacular fireworks display.

Excited to join the festivities? Book your Cairns Holiday Accommodation now!http://tropictowers.etourism.net.au/
Tropic Towers Cairns Holiday Apartments is close to the heart of Cairns giving you easy access and comfort. We offer one and two bedroom apartments as well as superb facilities you can use to unwind after a fun-filled day at the festival.
Image Source : Chinese New Year