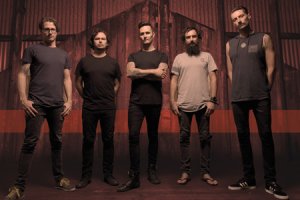 Dead Letter Circus are top of mind as one of Australia's favourite modern rock acts. Brisbane fans love them. They are taking their electric live set to Tanks.

Among their achievements which include opening for Muse, DLC have ridden the tide and consistently play on radio frequencies and stages since 2005. They're reaching new heights, coming out on top with spectacular releases and plenty of global touring miles.

DLC is prepared to rock after a big 2018 tour with American Supergroup Prophets Of Rage. Their "The Armour You Own" gigs were a roaring success across the country, showing they can still sell out top music venues. DLC gives the fans what they want. It's no wonder they remain as popular as ever. Experiencing DLC live is pure excitement. Tracks change shape and transform as they bend and wind their way to create unforgettable songs. Be there when DLC unleashes their music.

Catch the show on April 5 at Tanks Arts Centre.

Our Cairns Apartments are close to Tanks Arts Centre.

Our Cairns Holiday Accommodation has a great range of apartments for you to choose from. Our apartments are spacious and comfortable. We have a selection of one bedroom and two bedroom apartments with room amenities such as broadband internet and WiFi access, bed linen and towels, free cable TV, air-conditioning, ceiling fans, a fully equipped kitchen, and laundry facilities. Feel free to use our WiFi to stay active on social media. Make tasty meals using the kitchen equipment. Our two bedroom apartment is also specially equipped for disabled people.

Our guest facilities are available for use and include a tour desk, WiFi, spa, swimming pool, barbecue facilities, car parking, and on-site management. Unwind and swim in the pool. Dip in the bath and chill out. Our tour desk staff can help you with any concerns.

For more details, visit https://www.tropictowers.com.au/apartments.