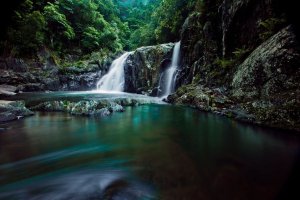 Are you looking for some family fun but don't know where to go this winter school holiday? There's no need to be extremely worried, mum and dad. Cairns has a plethora of school holiday activities.
Cairns is your gateway to the tropical north of Queensland. The city is known for its laid-back atmosphere, excellent cafés, bustling markets, and numerous nearby beaches. Furthermore, it is home to the iconic Great Barrier Reef and the Wet Tropics World Heritage Rainforest.
We've compiled a list of the best activities to do with the family in Cairns during the school holidays to save you time searching.
Cairns Botanical Gardens
Spend the day with your family at Cairns Botanic Gardens. This tropical paradise is well-known for having the best tropical plant exhibitions in Australia. Explore the beauty of tropical plants, unwind in beautiful surroundings, and learn about tropical flora and horticulture.
The Cairns Botanical Gardens are free to visit, but donation boxes are located throughout the gardens to help the park continue to exist in the future. The Cairns Botanic Gardens has four distinct zones - The Flecker Gardens, The Centenary Lakes, Mount Whitfield Conservation Area and The Tanks Art Center.
Workshops, talks, and classes are available. One of their free tours can also learn more about the plants and animals. The Botanic Gardens Restaurant Cafe is within the Flecker Gardens, and the TANK sixtyfour is next to the Visitor Center.
Crystal Cascades
Crystal Cascades is one of Tropical North Queensland's best-kept secrets. It's a secluded freshwater swimming hole tucked away in the tropical rainforest, with a series of small waterfalls flowing into large pools. It is a perfect place to visit during summer, but if you want to visit and see the beautiful surroundings during winter, why not prepare a picnic?
There are electric BBQs, picnic tables, and a restroom. The area is ideal for barbeques, nature exploration, picnics, and walks. However, most people are unaware of the existence of Crystal Cascades unless they are told by a local or unwittingly follow road signs to the unique surrounding places.
Cairns Esplanade Lagoon
The Cairns Esplanade Lagoon is another excellent spot for a picnic. The Cairns Lagoon is a popular swimming facility along the Cairns Esplanade in the Central Business District. This 4800-square-metre saltwater swimming lagoon is open all year and offers a safe swimming environment free of stingers and crocodiles.
The Cairns Lagoon is free to enter and has excellent barbecue facilities, making it a perfect choice for birthday parties or afternoon family dinners. This location, surrounded by a walk along the Esplanade and the fig tree playground, will undoubtedly bring a smile to your family's face!
Cairns ZOOM & Wildlife Dome
If you want to spend a little, Have you been to the world's first wildlife park with a challenge ropes course? Cairns ZOOM & Wildlife Dome is the ideal location for koala cuddling and interactive Australian wildlife presentations. The entire family can get up close and personal with Australia's wildlife, flora, and fauna!
You can also participate in the Mid-Zoom adventure. It is a lower level of difficulty suitable for initial training. This 3m-above-ground course, including climbing walls, tunnels, a cargo net, and swings, will keep your adrenaline pumping.
If you want something a little more thrilling, try the Hi-Zoom adventure, which includes some elements that are almost 12m above ground level. The Dome Climb provides some of the best views of Cairns. Alternatively, try the Power Jump, a free fall adventure in which you jump off a 13m high tower attached by rope for a rapid descent.
Book Your Family Accommodation
Are you looking forward to your trip? Then book a Cairns accommodation.
Tropic Towers is an excellent choice for your holiday. They provide a variety of spacious and comfortable one and two-bedroom Cairns holiday apartments. You can also have a relaxing break by unwinding at the pool in a lush tropical setting, soaking in the spa, or taking a stroll to the Esplanade to explore the many cafes, bars, and restaurants along the waterfront.
Tropic Towers is the perfect accommodation for your winter school holiday with friendly onsite management and nearby local transportation links. Book now!