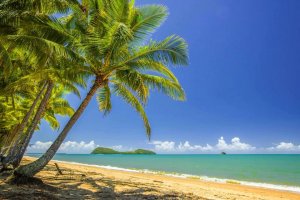 Less than a 15-minute drive from our Cairns City apartments, discover paradise on Far North Queensland's breath-taking Cairns beaches!

Switching the vibrant city environment for sand and sea is as easy as hopping in a car, where beaches such as Machans Beach and Holloways Beach, Yorkeys Knob, Trinity Beach and Palm Cove Beach offer their own unique atmosphere while sharing beautiful sun-browned sand, tropical palm trees and inviting ocean waters.

For your next getaway, relax in the absolute heart of Cairns here at Tropic Towers and escape to these top 5 Cairns beaches whenever the mood strikes:
Machans Beach
Machans Beach and neighbouring Holloways Beach are the closest beaches to the Cairns CBD - both reachable in just over a 10-minute drive. These residential Cairns beaches are perfect for a quick change of pace and scenery, particularly Machans Beach, where its laid-back suburb feel sets the tone for lazy beach idling.
Yorkeys Knob
Yorkeys Knob Cairns is the go-to beach for leisure, boasting a golf club, boating marina and ocean waters that are perfect for a range of watersports activities such as surfing, paddle-boarding, rafting and jet-skiing. Yorkeys Knob is the most central Cairns beach, and is only a 15-minute drive from our Cairns apartments.
Trinity Beach Drive past Yorkeys Knob for Trinity Beach - Palm Cove's quieter sibling that has grown in prominence and popularity. This beach is ideal for families and holiday-makers, having tour operators, a beachfront playground, a stinging net during the summer season and a host of restaurants and cafés to find within a short stroll from the sand.
Kewarra Beach
On the other side of the Trinity Beach headland is Kewarra Beach, and Clifton Beach, which together share over 7 kilometres of unspoilt sand and sea with no high-rise buildings in sight. These pristine beaches have few facilities and features, but are perfect for beach hoppers and tourists wanting nothing more than sand, sunshine and repose.
Palm Cove Beach
Palm Cove Beach - reachable in 30 minutes from Cairns City - is the most popular beach in Cairns, regularly featured in 'best beaches' lists for its quintessential tropical paradise setting and local nightlife and dining scene. This beach is worth visiting for its vibrant holiday atmosphere, but the opposite can be found by heading past Palm Cove into Ellis Beach - the northernmost beach in Cairns with a secluded feel and simply stunning views of the rising Kuranda rainforest.
Tropic Towers - Cheap Cairns Holiday Apartments
Visit all the above beaches with us at Tropic Towers Holiday Accommodation Cairns - we offer affordable Cairns accommodation apartments near Cairns Esplanade comprising self-contained 1 and 2 bedroom apartments for travellers, couples and families looking to enjoy Cairns for a budget-friendly price.

Our Cairns City apartment accommodation has all the comforts of home, complete with free WiFi, off-street car parking and exclusive guest access to a resort pool and barbecue area in relaxing tropical gardens.

Save by just booking direct - for more information, visit us at Tropic Towers Cairns.