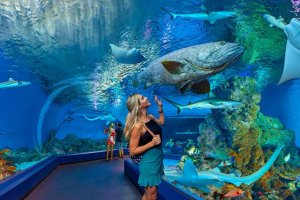 Have you been to the Cairns Aquarium? If you are heading to Cairns, do not pass up the chance to visit the only aquarium in the world that is dedicated to tropical North Queensland habitats and species.

Interested? Below are the things you can do at Cairns Aquarium.
Attend the talks and presentations
Cairns Aquarium is located at 5 Florence St in Cairns and is open daily from 9 AM to 5 PM. The aquarium has a series of scheduled daily talks presented by Cairns Aquarium's incredibly knowledgeable AquaNuts.

You can catch them starting at 9:30 AM. There is the Flooded Billabong River Monsters, Terrestrial Encounter Touch and Talk, Ribbon Reef Denizens of the Deep, Coral Sea Life of Sharks and Rays, Open Ocean Curious & Coloured, and Marine Encounter Touch and Talk.

With regards to the touch and talk series, attendees get a chance to touch the creatures such as lizards, sea stars and more under the careful guidance of the AquaNuts.
Experience the Double Discovery Tour
Cairns Aquarium offers a Double Discovery Tour. As per the name, this tour gives you two types of experiences. There is the Behind-the-Scenes Tour for a more closer and in-depth look at the reef and animals. The second involves the Cairns Turtle Rehabilitation Centre.

If you avail of this tour, you will have access to visit the centre and see the place where marine turtles are being cared for. While you are there, you also get to understand more about this wonderful animal and learn how to care for them.
Experience the Sea Explorer 5D
This fun and exciting virtual journey are perfect for the whole family and kids aged 5 and up. This virtual journey starts at the submarine simulator. Make sure to follow your Captain and hold tight as you sail and dive into the underwater world of Polar as well as the Deep Sea Regions.
Dine at Dundee's at the Cairns Aquarium
If you are feeling a little tired or hungry, you can grab a bite at Dundee's at the Cairns Aquarium. The restaurant offers modern Australian cuisine and the finest grilled steaks. Besides this, they also serve seafood dishes, pasta, and desserts.

Dundee's at the Cairns Aquarium is open to serve breakfast from 7:30 AM to 11 AM. Then lunch at 11:30 AM to 3 PM. Dinner starts at 5 PM till late while their cocktail snack bar is open from 8 AM to 5 PM.

Besides a lovely dining experience, Dundee's at the Cairns Aquarium also offers a unique one as they feature a 70,000-litre saltwater marine aquarium. That is the largest tank set within a restaurant in the country.

Are you ready to visit Cairns Aquarium? Then you should arrange your travel and book a stay at Cairns accommodation. Located in the heart of Cairns, Tropic Towers offers a selection of spacious accommodation near Cairns Hospital and several Cairns and Far North Queensland attractions.

There is a one-bedroom apartment fit for solo travellers, couples and small families as well as two-bedroom apartments for bigger groups. You can choose your rooms here.