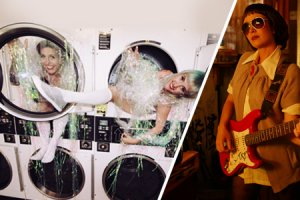 Catch the Flame.Music - The Ironing Maidens & Tegan Koster Project on Friday 08 March at Tanks Arts Centre.

Electronic duo, The Ironing Maidens, innovatively adapt real irons and ironing boards into electronic instruments to make techno bangers that pay tribute to the unsung 1950's female pioneers in music technology.

The Ironing Maidens have played all over Europe and Australia with their new take on 'women's work' to create a sound evocative of early Chicago house… with a play on the housewife.

Tegan Koster Project combines synth, powerful drum feels and unique guitar lines, paying homage to a classic 80's sound through a contemporary, avant-garde lens. Koster has performed in many experimental bands in Europe before heading back to Australia and forming the Tegan Koster Project.

Don't miss the show on March 8 at Tanks Arts Centre.

Our Cairns Accommodation is close to Tanks Arts Centre.

We have a choice of apartments to cater to your needs. Our apartments are stylish and perfect you're your next holiday. We provide one bedroom and two bedroom apartments with modern facilities. Our room amenities feature a completely equipped kitchen, air conditioning, broadband internet an WiFi, laundry facilities, bed linen and towels, and others. Enjoy WiFi at your convenience. Prepare warm and delicious dinners using the cooking facilities.

Our guest facilities are available for you to use. Swim at our swimming pool and relax after an exciting day. Soak in the spa and get rid of the stress. Our barbecue facilities are ideal for barbecue parties. We also provide car parking, on-site management, and a tour desk.

Our resort is located in Cairns near popular attractions. Treat yourself to the best restaurants and cafes. You can also go on a shopping trip and buy clothes and souvenirs for yourself and your loved ones. Our resort is close to shopping and dining destinations.

For booking information, please visit https://www.tropictowers.com.au/apartments.