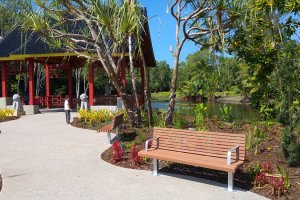 Cairns is known for its natural attractions like the rainforest, beaches, nature parks and many more. Would you like to know what other beautiful attractions you can visit in the city?

Here are a few.
Cairns Chinese Friendship Garden
Cairns is a seaside location and has a tropical climate. It shares some similarities with Zhanjiang, Guangdong Province. In August 2004, these two became 'Sister Cities' and Cairns Chinese Friendship Garden became the symbol of that friendship.

Visiting Cairns Chinese Friendship Garden is free. You can stroll through the beautiful garden from 7:30 AM to 5:30 PM daily.
Cairns Botanic Gardens
Want to see more tropical paradise? Cairns Botanic Gardens can help you with that as they exhibit several tropical plants in Australia. You can even learn about tropical flora and horticulture through the garden's free guided tours conducted by the Friends of the Botanic Gardens.

Tours take place from Monday to Friday at 10 AM. Since the tour includes key areas such as the Conservatory and Aboriginal Plant Use section, it takes around 60 to 90 minutes. If you prefer a self-guided tour, they have that, too. There is a series of audio files that can be downloaded to your smartphone as well as maps.
Australian Butterfly Sanctuary
How about visiting the largest butterfly exhibit in Australia? You can find over 2000 tropical butterflies in their rainforest gardens such as the electric blue Ulysses Butterfly as well as the Cairns Birdwing butterfly.

Besides seeing them up close, you can also go on a 30-minute guided Aviary Tour, a 20-minute guided Food Plant Walk and more. Australian Butterfly Sanctuary is open from 9:45 M to 4:00 PM.
Cairns Aquarium
While in Cairns, make sure to visit the Cairns Aquarium. They have over 16,000 animals as well as unique opportunities such as a Double Discovery Tour. This tour gives you access behind-the-scenes as well as a visit to the Cairns Turtle Rehabilitation Centre. Here you get to visit the sick or injured marine turtles plus learn how you can save this wonderful animal.

There is another experience which is designed for kids. It is called the Sea Explorer 5D, an amazing virtual journey underwater. The Cairns Aquarium is open daily from 9 AM to 5 PM.
Cairns Accommodation
All these are within easy reach from Tropic Towers Cairns Holiday Apartments. Tropic Towers is centrally located and is just 2km north of the heart of Cairns so visiting any attraction won't be a problem.

Besides easy access, Tropic Towers Apartments also offers spacious and self-contained one-bedroom and two-bedroom apartments. Each unit is equipped with the things you will need on your stay. There is a comfortable lounge area with TV, a kitchen, a laundry facility, and a private balcony.

Tropic Towers also has an outdoor swimming pool surrounded by the resort's lush tropical gardens as well as a barbecue area. Are you ready to book your stay? You can choose and book your Cairns holiday accommodation here.