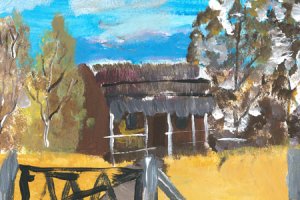 Catch the exhibition Lynette Shaw - Scenes From My Youth from Friday 14 December - Sunday 20 January at Tanks Arts Centre.
Lynette Shaw's debut solo exhibition of works on paper and paintings features her familial heritage. Generations of her family have lived in Cairns and on the Atherton Tablelands. The works evoke her stories and the stories of her clan. Get a glimpse of the artist's life and the heritage that has shaped her.
Lynette Shaw is a nature enthusiast, green thumb and adventurer. She has a love for nature and an eye for landscapes. Her appreciation for nature is very evident in her work. The smallest detail is captured and preserved in her artworks. Scenes from her life are distilled and commemorated into deeply personal works. The exquisite detail and rustic immediacy bring to life fondly remembered scenes from childhood. The viewer is taken to the depths of Lynette's world and her memories.
This series represents a vast body of work emanating from a life-long commitment to a robust, diligent arts practice of uncompromising ideals and evolving technique.
OPEN: 9am – 4.30pm weekdays, 10am – 2.30pm weekends.
Our Cairns Holiday Accommodation is close to Tanks Arts Centre.
Our resort has spacious and comfortable apartments. We have one bedroom apartments, two bedroom apartments and two bedroom apartment with disabled facilities. Our room amenities include air- conditioning, ceiling fans, a fully equipped kitchen, laundry facilities, broadband internet and WiFi access, bed linen and towels, free cable TV, flat screen TV and others. Use our WiFi to chat with family and friends. Cook up a storm in the kitchen. Our two bedroom apartment is especially equipped for disabled people.
Our guest facilities include a swimming pool and spa, barbecue facilities, car parking, on site management, tour desk and WiFi. Cool off with a refreshing swim in the pool. Use our barbecue facilities to start a barbecue party. Let our tour desk staff help you with travel concerns.
For booking information, please visit https://tropictowers.etourism.net.au