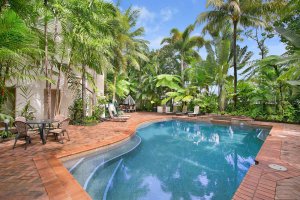 How does taking a lovely swim at a resort-style swimming pool surrounded by a lush tropical garden sound? Relaxing, right? That could be you on your next trip to Cairns. That is if you book a stay at Tropic Towers Cairns Holiday Apartments.
The Accommodation
Centrally located in the heart of Cairns, Tropic Towers has a place for you. Will you be travelling solo, with someone or with the whole gang? The one-bedroom apartment has a queen-sized bed and can be occupied by a maximum of three guests. For bigger groups, the two-bedroom apartment has the space perfect for a maximum of five guests.

When it comes to the room amenities, each of these features a living area complete with cable TV, a well-equipped kitchen, laundry facility, and a private balcony. And in case you need a room for people with special needs, Tropic Towers also has a spacious and self-contained two-bedroom apartment with facilities for people with disabilities.
The Facilities
Besides complete amenities making your stay comfortable, the resort also has a range of facilities to make your stay even more relaxing. Let's start with the resort's outdoor swimming pool. If you want to unwind, make sure to take advantage of this area.

You can take a lovely swim or relax at the poolside surrounded by a peaceful lush tropical setting. There are also outdoor sun lounges available. You can bask in the sun or maybe read that book you have been meaning to read. Then perhaps prepare a lovely meal for yourself or the gang and enjoy it at the barbecue area by the pool.
The Attractions
Once you are ready to head out and explore Cairns, the friendly on-site management team can help you. They can give suggestions on places to visit or if you have something in mind, let them know and they can help you with directions and booking.

In fact, exploring Cairns won't be difficult. Want to go shopping? There are a number of boutiques within 2km walk from Tropic Towers. How about exploring the local dining scene? Again, not a problem as there are several restaurants close by specifically at Cairns Esplanade.

Want to explore more attractions? The Cairns Chinese Friendship Garden is a good place to visit. Admission is free and the place is so beautiful. Get your camera ready as you stroll through the garden and as you pass by the Freshwater Lake and Saltwater Lakes.

Do you love tropical plants? Then head over to the Cairns Botanic Garden. They offer some guided walking tours as well as self-walking tours complete with audio and map you can download.

Besides these, there are two other places you must not forget to visit. First is the largest butterfly flight aviary in Australia with 2000 tropical butterflies. The place is called the Australian Butterfly Sanctuary. Last is the Cairns Aquarium which is the world's only aquarium dedicated to tropical North Queensland habitats and species.

If you want to relax and unwind, you have a place at Tropic Towers plus access to all the great attractions in the city. Are you ready to book a stay?

Pick your Cairns holiday accommodation here.