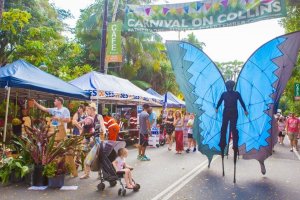 Would you like to visit the tropical north of Queensland? Your entryway to an ideal getaway is the laid-back city of Cairns.
Cairns' surrounding area is a fantastic place to explore. There are many beautiful restaurants and bars in Cairns. Spectacular fish and fresh produce continue to be the cornerstones of Cairns' culinary scene. Additionally, Cairns has a booming shopping experience. Moreover, the famous Great Barrier Reef and the Wet Tropics World Heritage Rainforest are also in Cairns. You will enjoy exploring this tropical sanctuary all day long.
But there's more! There are many events in Cairns that you shouldn't miss.
Cairns Festival Turns 60 Exhibition
When: August 3 to September 10
Venue: The Court House Gallery
Given that this free exhibition is a recurring event, you might be able to catch it. The Court House is hosting a show that uses pictures and film to explore the rich history of the Cairns Festival's 60-year history.
The Cairns Regional Council established the city's first Cairns Festival on May 26, 1962, with a new jetty on Green Island officially opening as the festival's centrepiece. The inaugural coronation of "Miss Cairns" and a street parade were other features that solidified the event's place on tourism calendars.
It is currently acknowledged as one of Queensland's most significant and fastest-growing cultural events, bringing together all aspects of tourism, the arts, culture, and lifestyle.
Carnival On Collins
When: September 4
Venue: Tanks Arts Centre & Cairns Botanic Gardens
Visit the lovely Tanks Arts Centre and Cairns Botanic Gardens complex and join the yearly street party honouring tropical life. Enjoy the vibrant street entertainers, unexpected pop-up dance performances, and diverse rhythms from the main stage.
The streets will feature more than 200 market stalls selling plants, arts and crafts, and other items. There will also be a wide range of free workshops, a Father's Day classic and a Cairns Festival favourite!
When: September 24
Venue: CPAC Theatre
This multi-award-winning phenomenon, which has sold out every performance, is arriving in town for the first time. The newest innovator in children's entertainment, CIRCUS, is sure to astonish and amaze the whole family. It includes world-class illusions, tumbling acrobats, highly skilled jugglers, breath-taking and elegant aerialists, a lovable clown with his GIGANTIC 6ft balloon, and enough side-splitting comedy.
Morning Melodies - 1954: Ella, Etta, Eartha
When: October 10
Venue: CPAC Theatre
The year is 1954. Ella Fitzgerald, Etta James, and Eartha Kitt are all performing at the pinnacle of their careers. For everyone who came after, these ladies carved new ground with their swinging jazz, deep soul, and witty kitsch. A world-class all-female band led by Melissa Western pays homage to this beautiful musical era.
When: October 14 - 23
Venue: Cairns Esplanade
The Cairns Pride Festival offers a sizable lineup of events honouring the lesbian, gay, bisexual, transgender, intersex, queer, sistergirl and brother boy communities and people throughout the far north. The event features activities for the whole family, dance parties, art exhibits and more. Everyone can partake in the festivities.
Sydney Comedy Festival Showcase 2022
When: October 14 - 23
Venue: Tanks Arts Centre - Tank 5
The Sydney Comedy Festival Showcase 2022 will include some of the festival's hottest artists live on stage for an astounding two hours of hard-hitting humour. You'll be sore from laughing so hard after this jam-packed night of pure entertainment, which features an expertly curated lineup of seasoned favourites and some of the newest up-and-coming artists.
Jane Eyre By Charlotte Brontë Adapted by shake & stir theatre co
When: November 5
Venue: CPAC Theatre
Catch Bront's gothic narrative of a courageous orphan seeking love, family, and a sense of belonging. Witness a faithful yet fiercely creative new stage production of one of the most famous works of English literature from the nationally renowned shake & stir theatre co. (Animal Farm, Dracula).
Are you prepared to discover Cairns? Then reserve a room at Tropic Towers. This place offers roomy, self-contained Cairns accommodation close to the city's centre.
Tropic Tower offers welcoming on-site management, proximity to local transportation options, and easy access to the Great Barrier Reef, Kuranda Rainforest, and Daintree Rainforest. This Cairns holiday accommodation is the perfect setting for an unforgettable trip.