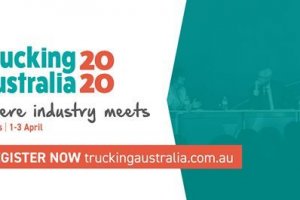 Trucking Australia 2020
In the trucking industry and hoping to network and learn from the best? Trucking Australia by Australian Trucking Association comes to Cairns this April - Australia's number-one conference for truckers, businesses and stakeholders involving all things trucking.

Held in Perth last year to a successful turnout, Trucking Australia 2020 is heading to Far North Queensland to take over the Cairns Convention Centre, bringing with it a truckload of insightful seminar events tackling new industry issues while helping truckers to reach their full potential.

The three-day program features renowned keynote speakers and special guests exploring a variety of industry topics interspersed with business lunches and dinners, which will kick off with welcome networking drinks on the first night before culminating in the 2020 ATA Foundation Sponsors Gala Awards Dinner.

Not to be missed if you're looking to improve your working life as a trucker, network or get involved in current industry issues and developments, Trucking Australia Cairns is all set to take place at Cairns Convention Centre from Wednesday, April 1 to Friday, April 3.
Accommodation Near Cairns Convention Centre
Our Cairns City apartment accommodation is a straight 5-minute drive from Cairns Convention Centre, comprising affordable hotel-style apartments that come self-contained with all the comforts of home.

If you're planning to attend Trucking Australia 2020, we offer ideal 1 and 2 bedroom units here at Tropic Towers - suitable for both individual travellers and small groups looking for affordability in the heart of Cairns City.

Situated on Sheridan Street Cairns - sharing the same street as Cairns Convention Centre - our open-plan Cairns City apartments have everything you need on arrival, each offering full kitchen and laundry facilities, lounge seating and dining table, contemporary bathroom, Queen/single beds, cable TV and free WiFi. All rooms also feature a furnished private balcony.

For our cheapest rates this April, simply book directly.
Experience Cairns
During Trucking Australia, take the opportunity to experience Cairns - Cairns City has a wealth of things to do and places to see, hailed as the Gateway to the Great Barrier Reef with famous beaches to discover in just a short drive north of the CBD.

Our prime city location at Tropic Towers offers the best of Cairns within arm's reach, including its biggest shopping centres, best restaurants and most popular tourist hotspots. Whether you're looking to shop, dine, explore or simply all the above, our Cairns accommodation apartments will place Cairns QLD at the tip of your fingers.
Where to Dine in Cairns
Find the best restaurants in Cairns within minutes: Cairns dining destinations include Cairns Esplanade, The Pier Cairns and the Cairns CBD near Cairns Central, specifically Lake Street, Grafton Street and Spence Street - all a stone's throw from Cairns Convention Centre.

Explore Cairns Esplanade for local vendors, boardwalk coffee shops and international restaurants; visit The Pier for fine dining/award-winning dining on the marina waterfront; or head to the bustling city centre for an eclectic choice of restaurant bars, modern cafés, global chains and fast-food options.
Shopping in Cairns City
It's well worth experiencing shopping in Cairns, where its most sought-after shopping centres include The Pier Shopping Centre and Cairns Central Shopping Centre, in addition to DFS Galleria and Orchid Plaza Shopping Centre near Fogarty Park.

Pair a memorable meal at The Pier with a leisurely waterfront shopping experience in The Pier Shopping Centre, or visit Cairns Central in the heart of Cairns City for a wide range of fashion names and outlets, gift shops, boutique stores and retail brands spread over two expansive floors.

If you are looking to purchase souvenirs and crafts on your visit to Cairns this April, simply take a stroll down Cairns Esplanade for local market stalls and merchants.
Cairns Attractions
Thinking about exploring everything Cairns has to offer? Extend your stay after Trucking Australia - Cairns City has a handful of tourist attractions and exciting things to do that shouldn't be missed if it's your first time to visit Cairns, which include affordable day trips to the Great Barrier Reef in addition to some of the best sightseeing experiences in Australia.

Take one day in April to see the Great Barrier Reef via popular city tour operators such as Seastar and Passions of Parade, or hop on the Kuranda Scenic Railway next to Cairns Central Shopping Centre to make your way towards Barron Gorge National Park and Kuranda.

Kuranda Scenic Railway is a fantastic sightseeing experience in itself, which can be followed up by the Skyrail Rainforest Cableway in Smithfield - a spectacular cable car ride into Barron Gorge National Park and Barron Falls.

Cairns beaches, notably Holloways Beach, Trinity Beach and Palm Cove Beach, are all reachable in 15 to 30 minutes from Cairns City via car or bus.
Our Free Guest Facilities
By booking with Tropic Towers, take advantage of a number of free onsite facilities and services during your stay in Cairns. These include a private outdoor swimming pool with sun loungers, open-air spa and barbecue/dining area nestled in tall landscaped gardens.

Alongside free high-speed WiFi, we offer guests free off-street car parking, as well as a friendly reception tour desk providing quick and easy vehicle hire, restaurant reservations and tour/attraction bookings.
Save - Book Directly with Us
For Trucking Australia this April, or simply your next memorable break in central Cairns, book directly with us to save, where we offer the cheapest guaranteed rates on both our 1 and 2 bedroom Cairns City accommodation.

Situated on Sheridan Street near Cairns Esplanade, Tropic Towers Apartments offers affordable comfort in Cairns City with a convenient location just 5 minutes from Cairns Convention Centre, Cairns Central and the best places to eat and dine in Cairns. Day trip to the Great Barrier Reef via local tour operators in the CBD, or take a short 15-minute drive out of the city to find the region's breathtaking beaches - our cheap Cairns accommodation will place Cairns in the palm of your hand.

For more information, just visit Tropic Towers Cairns.