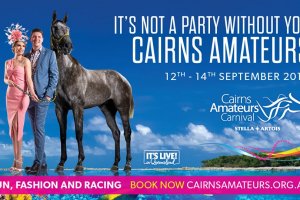 Discover Cairns This Spring with Tropic Towers Apartments
Visit Cairns this spring with Tropic Towers Cairns Holiday Apartments. As spring makes its way around the corner this 2019, there isn't a better reason to head to Cairns to discover Far North Queensland's best beaches, tuck into the famous local cuisine and see firsthand the world-famous Great Barrier Reef.

At Tropic Towers, our location on Sheridan Street - just walking distance from Cairns Esplanade - places Cairns in the palm of your hand. Whether you're looking to experience the local shopping and dining scene, enjoy a close location to the beach or take numerous tours out to the Great Barrier Reef, you'll have all of it at the tip of your fingers with our stunning Cairns City apartments.

Comprising of modern and spacious one and two bedroom options, our Cairns accommodation apartments are ideal for both couples and families with large open-plan designs complete with fully equipped kitchens, comfortable Queen beds and furnished private balconies. We also have a wide range of onsite facilities, ideal for your enjoyment in the warm spring weather.

Each spring, tropical Cairns comes to life with exciting events and lots to do under the sun - book your next holiday today with Tropic Towers Apartments Cairns.
Carnival on Collins 2019 - Celebrate Father's Day
One big reason to be in Cairns this spring is Carnival on Collins 2019 - a free annual event that follows Cairns Festival with a fantastic finale celebration on Father's Day.

Attracting tens of thousands of visitors each year, Carnival on Collins is a popular family-friendly event that brings the scenic Cairns Botanic Gardens to life with a morning and afternoon full of live performance, market stalls, kids carnival rides and more.

Packed with a nonstop program of street artists and buskers, live performers on stage, local arts and crafts and over 250 market stalls, Carnival on Collins has something for all, including more than enough carnival rides and activities to keep the kids entertained all day!

This colourful festival takes place each year on Father's Day, making it a great opportunity for the whole family to celebrate, tuck into good food and experience Cairns during one of its most exciting times of the year.

The Cairns Botanic Gardens is a 5-minute drive from our family accommodation Cairns Esplanade apartments - don't miss Carnival on Collins 2019 from 9 am to 3 pm on Sunday, September 1.
Cairns Amateurs Carnival 2019
Cairns Amateurs Carnival is another thrilling Cairns event that will return this spring, bringing together exciting food, fashion and horse racing at the Cannon Park Racecourse.

Soak up two days of horse racing action at Cairns Amateurs Carnival 2019, which will offer a number of event packages to enjoy with friends and family this year, including the AMZ Cairns Amateurs Ball, Vodka Cruiser Lawn Party, Cairns Amateurs Fishbowl and more.

Dress up in your finest and come along for the fantastic atmosphere, which has topped itself each year since the first-ever Cairns Amateurs event in 1959. Paired with world-class food, drinks and a huge fashion sideshow for the glamorous at heart, Cairns Amateurs Carnival is a must-attend horse racing weekend that entices racegoers and punters from all over Australia.

Be at this year's Cairns Amateurs Carnival at Cannon Park Cairns - just a 10-minute drive from our luxury Cairns apartments - on Friday, September 13 and Saturday, September 14.
Explore Everything Wonderful About Cairns with Tropic Towers
As well as the best events this September 2019, kick-off spring in high spirits by spending your Cairns holiday exploring everything Cairns has to offer. Our CBD Cairns City apartment accommodation gives you a central base for all the best things to do in Cairns, from savouring the best Cairns restaurants to sunbathing on Tropical North Queensland's most sought-after beaches.

Within a stone's throw from Tropic Towers Cairns, enjoy a world-class waterfront dining experience at The Pier, or take a stroll along Cairns Esplanade to pick from a wide choice of cafés and restaurants before swimming Cairns Esplanade Lagoon. If you're looking to shop in style, head to Cairns Central Shopping Centre or The Pier Shopping Centre Cairns, which both share hundreds of fashion retailers, gift shops and spas.

Holloways Beach is a 10-minute drive from our location, with other nearby beaches including Trinity Beach and world-famous Palm Cove. Venture into the heart of the rainforest with Kuranda Village in the Rainforest, or take the popular Skyrail Rainforest Cableway for an unforgettable rainforest experience with breathtaking views of Barron Falls.

The Great Barrier Reef - a must-see on any Cairns holiday - is also just off the coast, with numerous tours and trips available daily from the Cairns CBD.
Our Central Cairns Holiday Apartments
Make Cairns yours with our fully self-contained Cairns apartments at Tropic Towers. Situated near Cairns Esplanade, you'll enjoy your perfect holiday in Cairns as you relax in one of our 1 or 2 Bedroom Apartments - all of which come complete with stylish open-plan living areas, fully furnished kitchen amenities and relaxing private balconies with stunning hinterland views. Additionally, we also offer 2 Bedroom Apartments with disabled facilities.

Enjoy cable TV, private laundry facilities and free WiFi access in your apartment, and during your stay, take advantage of our onsite tropical swimming pool. Ideal for leisure in the sun or unwinding at the end of a busy day, you'll find the perfect excuse to relax in or out of the pool, which also features inviting poolside sun loungers and modern barbecue facilities.
Save on Your Cairns Holiday - Book Directly with Us Today
Spring is one of the best times to visit Cairns Far North Queensland, and with Carnival on Collins 2019 and Cairns Amateurs Carnival just around the corner this September, there isn't a more perfect excuse to head to Cairns for an unforgettable holiday with friends, family or your significant other.

View our 1 and 2 Bedroom Apartments and book directly today for best price guaranteed - just visit us at Tropic Towers Cairns.