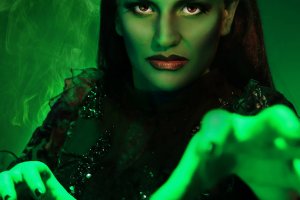 Catch Wicked at CPAC Theatre on January 18. CPAC Theatre is located at Sheridan & Florence Streets. The story of Wicked focus on the events that happened in Oz before Dorothy arrived.

Elphaba is the headstrong, feisty and misunderstood emerald-green coloured girl who is brilliantly talented. She grows to become the infamous Wicked Witch of the West. She encounters Galinda, the popular girl who becomes Glinda, the Good. What started as competition soon develops into the unlikeliest of friendships until the world decides to call one 'good' and the other one 'wicked'. With a superb cast of Cairns performers, a magnificent set, opulent costumes and a full orchestra, you are in for a treat.

Our Cairns Holiday Accommodation is close to CPAC Theatre. Our accommodation features a fully equipped kitchen, laundry facilities, broadband internet and WiFi access, bed linen and towels, free cable TV, flat screen TV and others. Feel free to use our WiFi to help you stay connected. Cook healthy and delicious meals in the kitchen. Our two bedroom apartment is specially equipped for disabled people.

Feel free to use our guest facilities. Our guest facilities include a swimming pool and spa, barbecue facilities, car parking, on-site management, tour desk and WiFi. Soak in the bath and relax after a long day. Cool off in the swimming pool. Fire up the grill and start a barbecue party. Let our tour desk staff help you plan your itinerary. Stay connected using our WiFi.

Our resort is in Cairns close to the beach and beautiful natural surroundings. Relax and enjoy a weekend at our resort. There are also lots of excellent food establishments near our resort. Dine at some of the most outstanding restaurants. Sample the bars and coffee shops.

For booking information, click here.