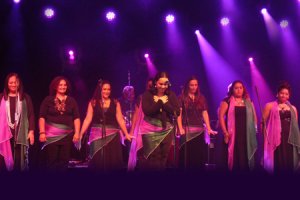 On Saturday the 3rd of December, the Women of Austranesia take the stage and show their heritage in the most beautiful way. Save the date and enjoy the music of Women of Austranesia at Tanks Arts Centre.

These passionate vocalists and musicians have united in voice to celebrate womanhood with a collection of original songs that pay tribute to important women in their own lives. Songs to remember and acknowledge. Songs to empathise and empower. Songs about women, for women, everywhere.

Cairns based vocal ensemble, Women of AustraNesia, launch their self-titled debut album and accompanying Song Book in an inspirational and uplifting night of music.
This extraordinary collective represent the Far North's finest female vocalists of Aboriginal, Torres Strait Islander, Polynesian and Melanesian decent.

One of the great and wonderful mysteries of the world is how women have an ability to communicate with each other on the deepest level, forging strong and lifelong friendships. Mothers, Daughters, Sisters, Aunties, Nieces, Friends…unspoken bonds as old as time itself. Celebrate women everywhere and enjoy this fabulous performance.

Catch the Women of Austranesia at Tanks Arts Centre on December 3. Our Cairns Holiday Accommodation is just a few minutes away from Tanks Arts Centre.

Our Cairns Holiday Accommodation has a great selection of apartments. Our apartments are fully furnished. Choose from our one bedroom apartment, two bedroom apartment and two bedroom apartment with disabled facilities. Our room amenities include air-conditioning, ceiling fans, a fully equipped kitchen, laundry facilities, broadband internet and WiFi access, bed linen and towels, free cable TV, flat screen TV and others. Our two bedroom apartment is especially equipped for disabled people. Prepare delicious meals in the kitchen. Kick back and unwind while watching your favourite television programmes.

Our guest facilities include a swimming pool and spa, barbecue facilities, car parking, on site management, tour desk and WiFi.

For booking information, please visit http://tropictowers.etourism.net.au

Image Source : Women of Austranesia